February 13, 2018
Rags to Riches at USF Tampa's Centre Gallery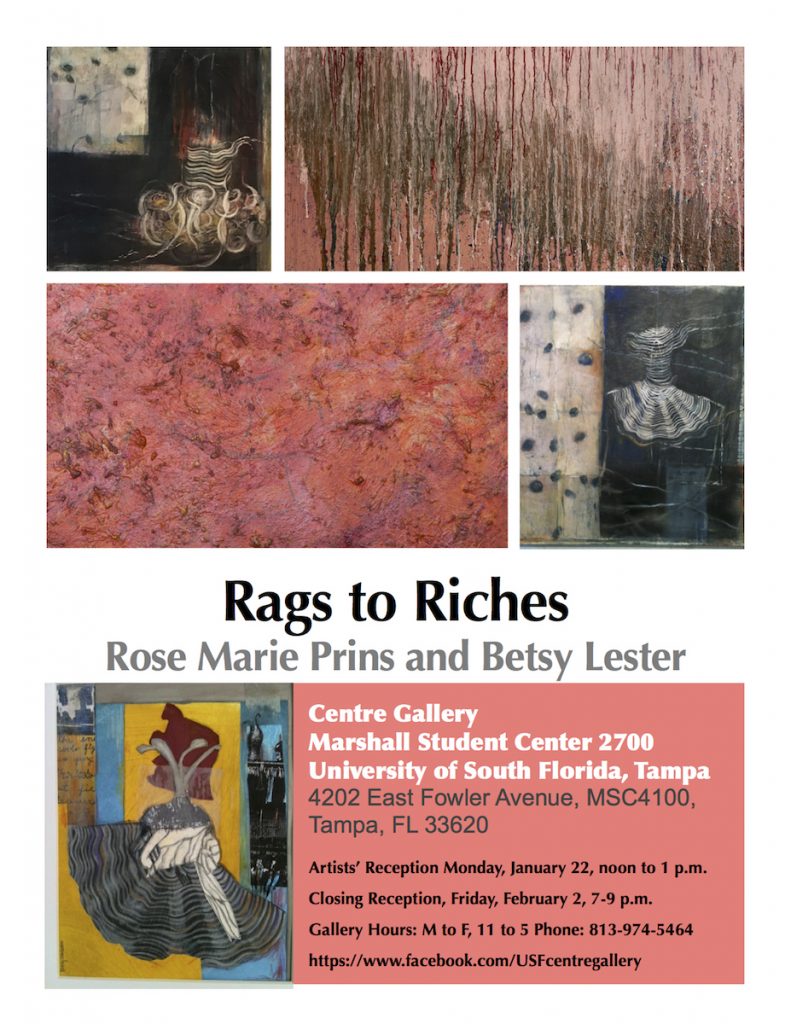 The capitalist market system often exploits workers. This observation is particularly relevant in regard to the "rag trade," as those in the field refer to the fashion industry. Betsy Orbe Lester explores fashion, the ultimate disguise, as she questions the dichotomy between the well-heeled and shoeless Joes and Janes. Fashion her trigger, she seeks cultural icons: embedding meaning in, and from, the media, to lock in her reality. Her current mixed media work appropriates Vogue spreads of pseudo rags for the rich and famous: trendy rip-offs from the impoverished and homeless. Madison Avenue, dictator of the latest fashion trends, markets to vacuous forms waiting to be filled. And like Midas, the rag trade plays to the emotionally homeless, turning all it touches to gold, regardless of the human cost.
Rose Marie Prins grew up in apartheid-era South Africa, working in fashion and advertising. Her early years were marked indelibly by the inequities she witnessed. The extreme wealth and poverty, riches and rags, she saw on trips to India and Mexico are often the result of exploitation and corruption. But beauty can be found: from the fabrics of Indian women's saris, to flora and fauna, oceans and rivers, and in the colors of the earth beneath our feet. These experiences inspired her current mixed media work. In spite of pollution and poverty she found consolation in beauty. "Beauty is… the way in which the Gods touch our senses, reach the heart and attract us into life," James Hillman reminds us. After suffering a devastating loss in 2016, it is beauty, in part, that drew her back into life.
Viewed together Lester's and Prins' work, with its multitude of media and metaphor, is an embarrassment of riches. Thus they create works that celebrate our cultural warp and weft as well as investigate the wealth, and value, of life's experiences.