August 15, 2023
A Big Move
In the late summer of 2022 I moved to New Mexico. I made the move for many reasons, but high on my list was that I missed the mountains and mesas and the vast landscape of the high desert. 
Before I left St. Pete—that sleepy little town that I arrived in twenty-two years ago that became unrecognizable as progress, and tourism, discovered it—I participated in one final exhibition. This was Beyond Words: Celebrating the Art of the Book at Florida CraftArt. Four of my artist's books were accepted into the juried show, one of which won an award. This was a pleasant surprise and a great way to make my final exit! 
The award-winning book is As Each Moon Passes, with a poem written by my son the late Jaro Majer. This is one of his twenty-one poems in our book A Leaf in the Wind: Poems by Jaro Majer, Artwork by Rose Marie Prins. This is also the artist's book that was featured in the recent Libros exhibition, Anything Goes, at Tortuga Gallery in Albuquerque. More about that later… 
Another event that occurred before I left St. Petersburg was the farewell party the Morean Arts Center held in my honor. I was overwhelmed by the Morean's generosity and by that of the many guests who arrived, a number of them bearing flowers and gifts. I gave a talk to express my gratitude to the Morean and to my loyal students. How I managed it without breaking down in tears, I don't know!
Since my move, so much as happened! I eventually found a small studio in Albuquerque's vibrant Nob Hill district. Every first Sunday of the month throughout the spring, summer and fall we have Nob Hill First Sunday Stroll when all the shops and art galleries are open, including my studio/gallery. At other times, I'm open by appointment—folks interested in seeing my work can contact me through the CONTACT form on my website.
Below: Scenes from my Nob Hill studio and gallery at 122 Bryn Mawr Drive SE, Albuquerque, 87106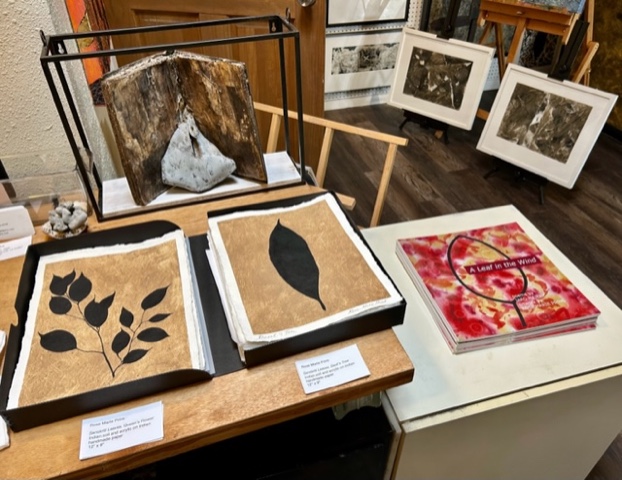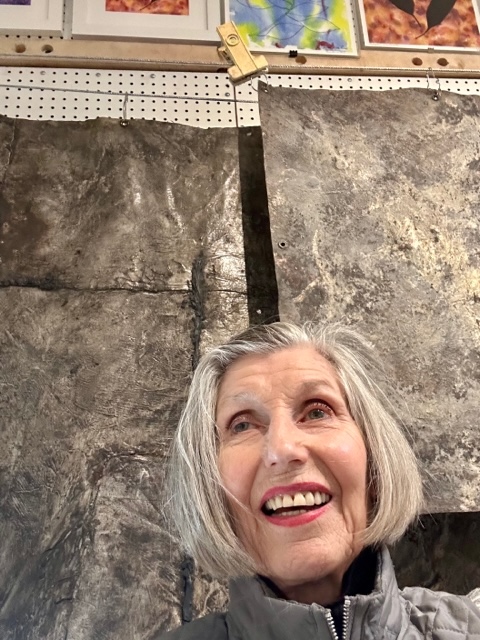 I was fortunate in that within a month of my arrival here I was invited to have a solo exhibition of my artist's books. This took place at the Little Bird de Papel Gallery on Mountain Road, Albuquerque, during May, 2023.
Since then, I've participated in a group exhibition of members of Libros, the New Mexico Book Arts Guild, and the Santa Fe Book Arts Group. Many works from that show, including one of my mixed media works, along with A Leaf in the Wind: Poems by Jaro Majer, Artwork by Rose Marie Prins, are now traveling to the Santa Fe libraries and the Santa Fe Community College. Our work will be on view through the spring of 2024. 
Santa Fe Main Library (October 2023)

Santa Fe Southside Library (October 2023)

Santa Fe LaFarge Library (October 2023)

Santa Fe Community College (March-April 2024)
Below: Heart of Silence, my mixed media work included in the Celebration of the Book, artist's books by international artists, traveling exhibition throughout Santa Fe.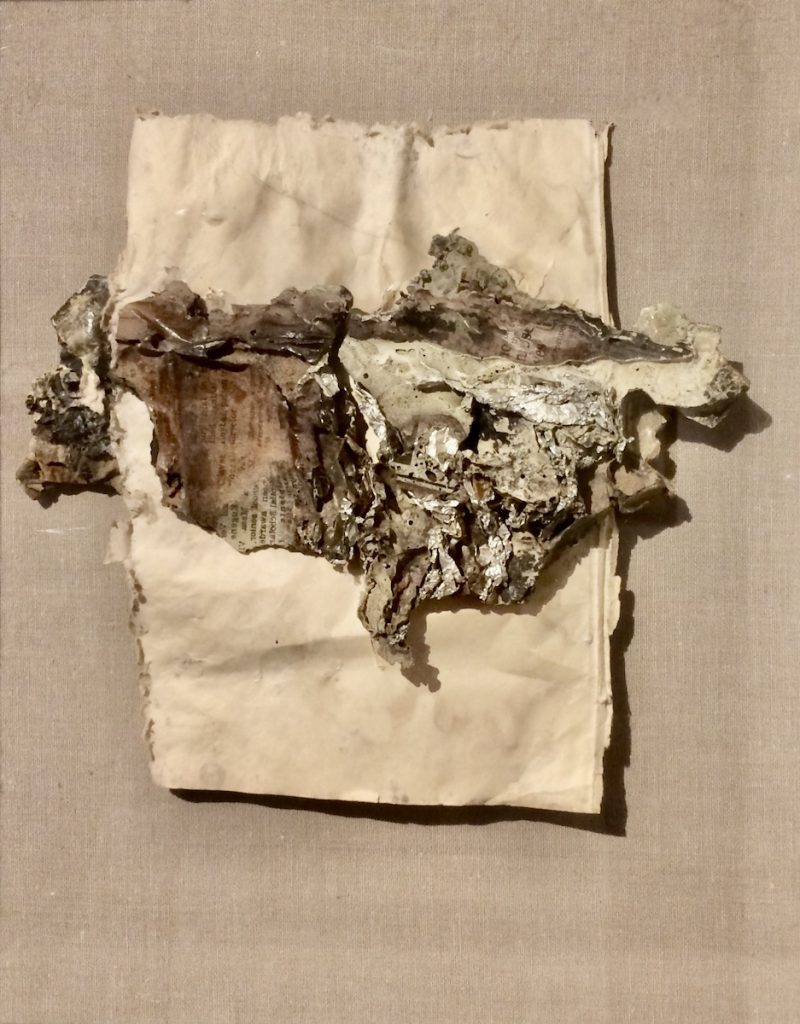 Earlier this year, I gave a presentation on my life and work to members and friends of 1 Million Cups ABQ. After my presentation, Danielle Slupesky, an End-of-Life Coach and Death Doula, approached me about collaborating on a workshop. As a mother who lost her only child and having worked as an artist-in-healthcare bedside in hospitals, often with terminally ill patients, I feel I've gained a unique perspective on death and dying. Our workshop, The Art of Letting Go: An Art and Grief Processing Workshop, took place at the Hispano Chamber of Commerce one afternoon in June. We had a full house. Danielle conducted guided meditations and I made art projects with the participants. Judging from the art that was produced, the stories that were shared and the tears that were shed, our workshop was both cathartic and healing.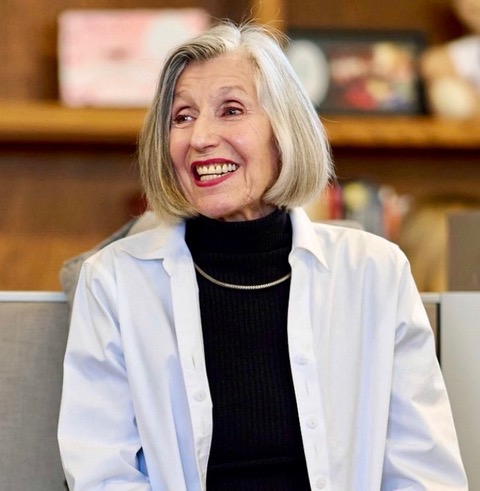 Above: presenting on my life and work at a 1 Million Cups ABQ meeting.
Below: images from our Art of Letting Go Workshop. Danielle Slupesky, End-of Life Coach, is in the blue floral dress.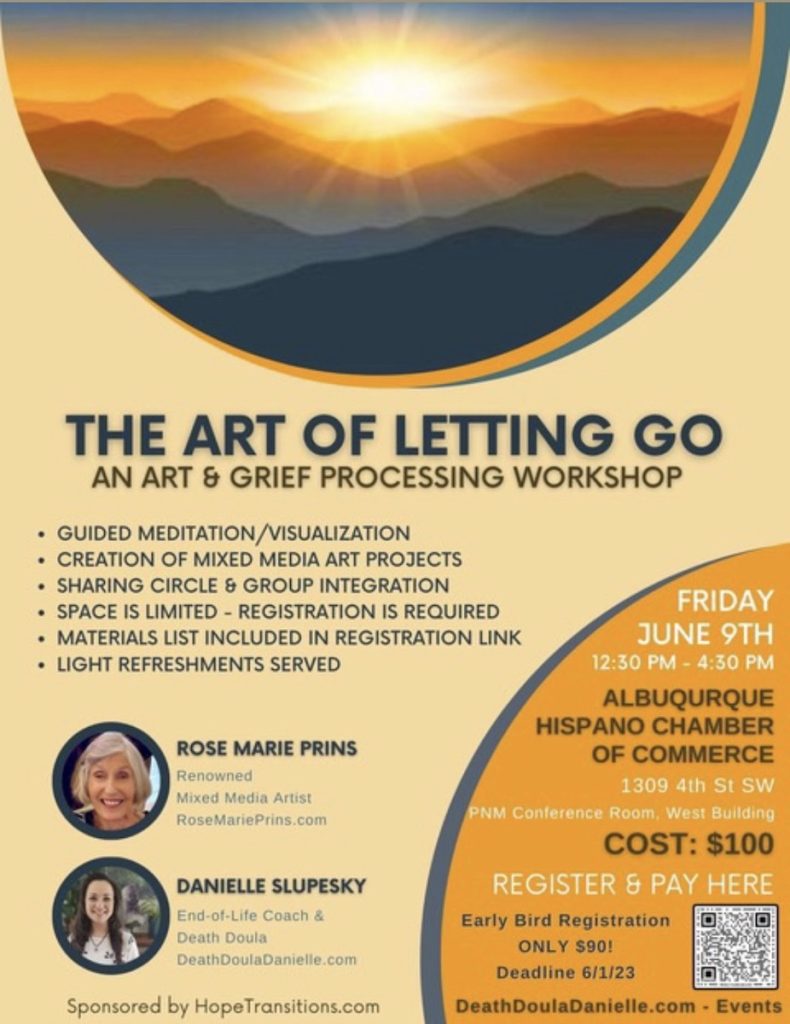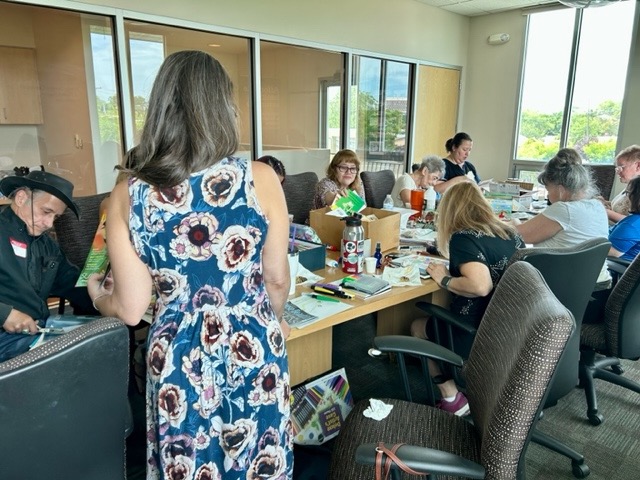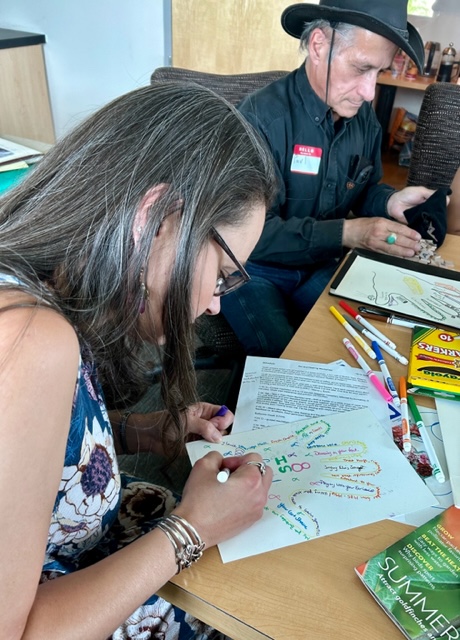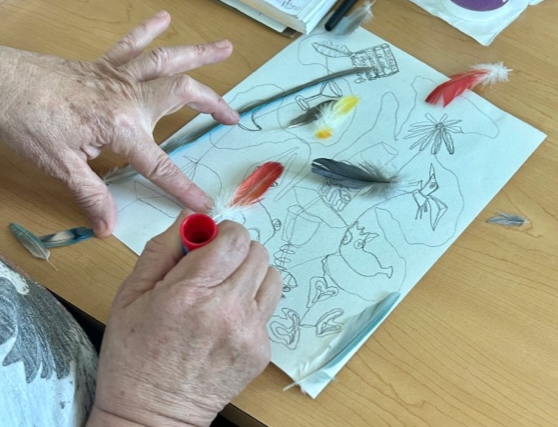 Last April I taught a weekend cold wax painting and mixed media workshop at the Harwood Art Center. I'm looking forward to teaching the same workshop there in September.  
Below: Scenes from my spring workshop at the Harwood Art Center, Albuquerque.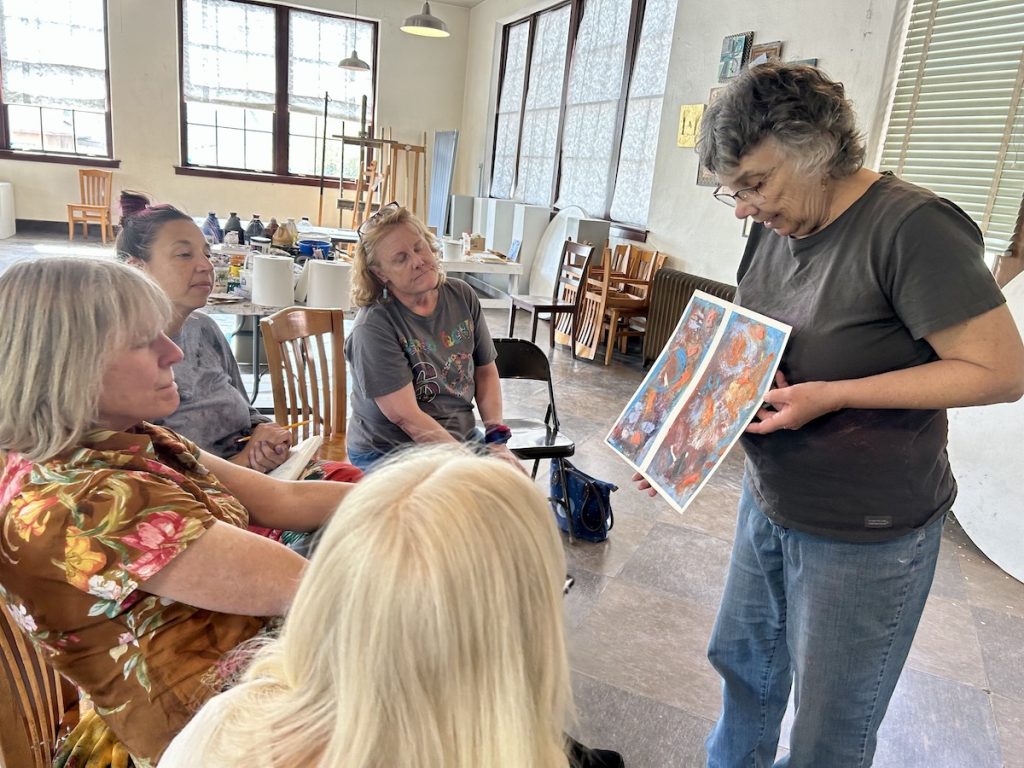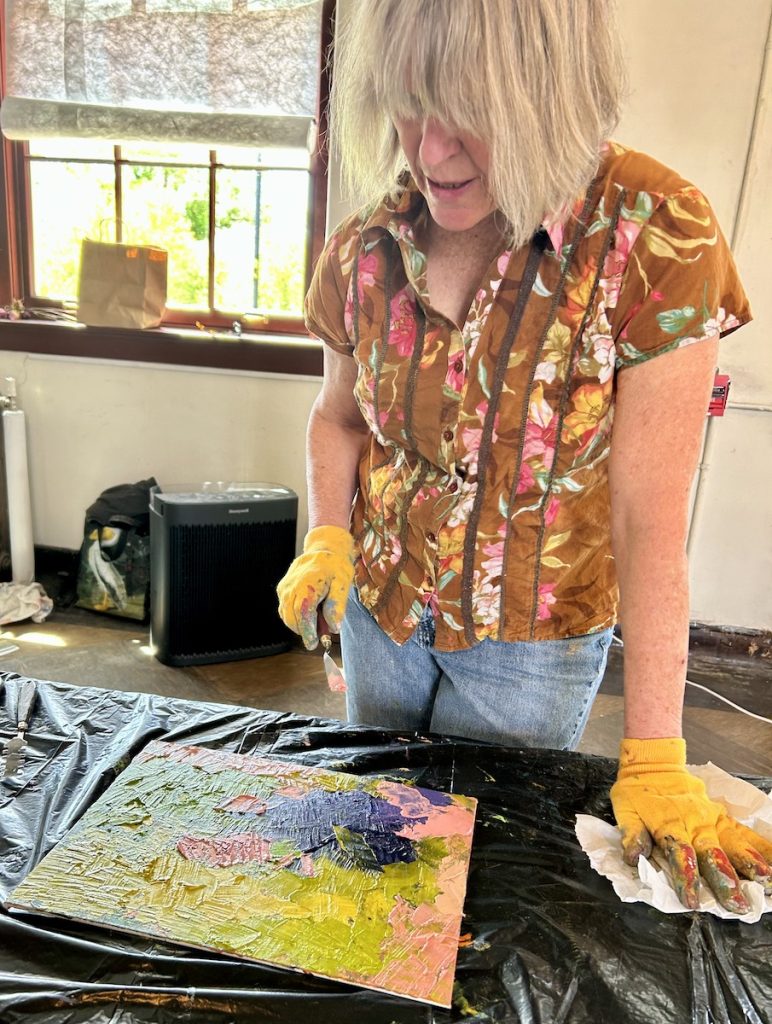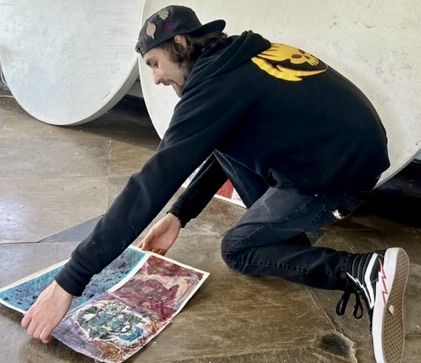 In November, I head South to Central Mexico. I'm excited by the prospect of being at an artists' retreat, Casa Jupiterfab, in Guadalajara, Mexico. I'll spend three months there working on a multimedia installation, They Had No Time to Say Goodbye. It addresses the ongoing tragedy of missing and murdered indigenous women. At the end of my residency I'll have a solo exhibition in Guadalajara supported by the team at Jupiterfab. I'm currently collecting x-rays to use in the installation. If you have x-rays that you can share with me, or if you know of a source, please get in touch with me here on my website or DM me on Facebook or Instagram. The medical profession has gone digital and can no longer make use of x-ray film.
Below: An example of how I'll be using old x-rays in the multimedia installation, They Had No Time to Say Goodbye.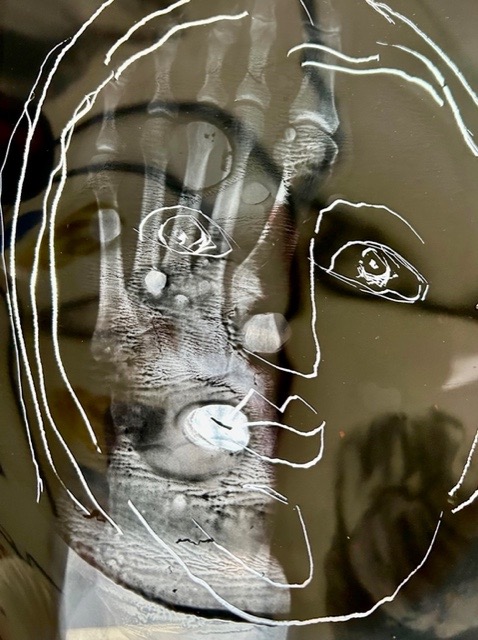 I'm currently teaching my Beginning/Intermediate Painting Course on Tuesday evenings on Zoom through the Morean Arts Center. However, before returning to New Mexico in February, I'm hoping to travel to St. Petersburg, Florida, to teach a weekend painting workshop at the Morean in person. I'll be happy to see old friends, enjoy the Florida beaches and escape most of New Mexico's winter weather!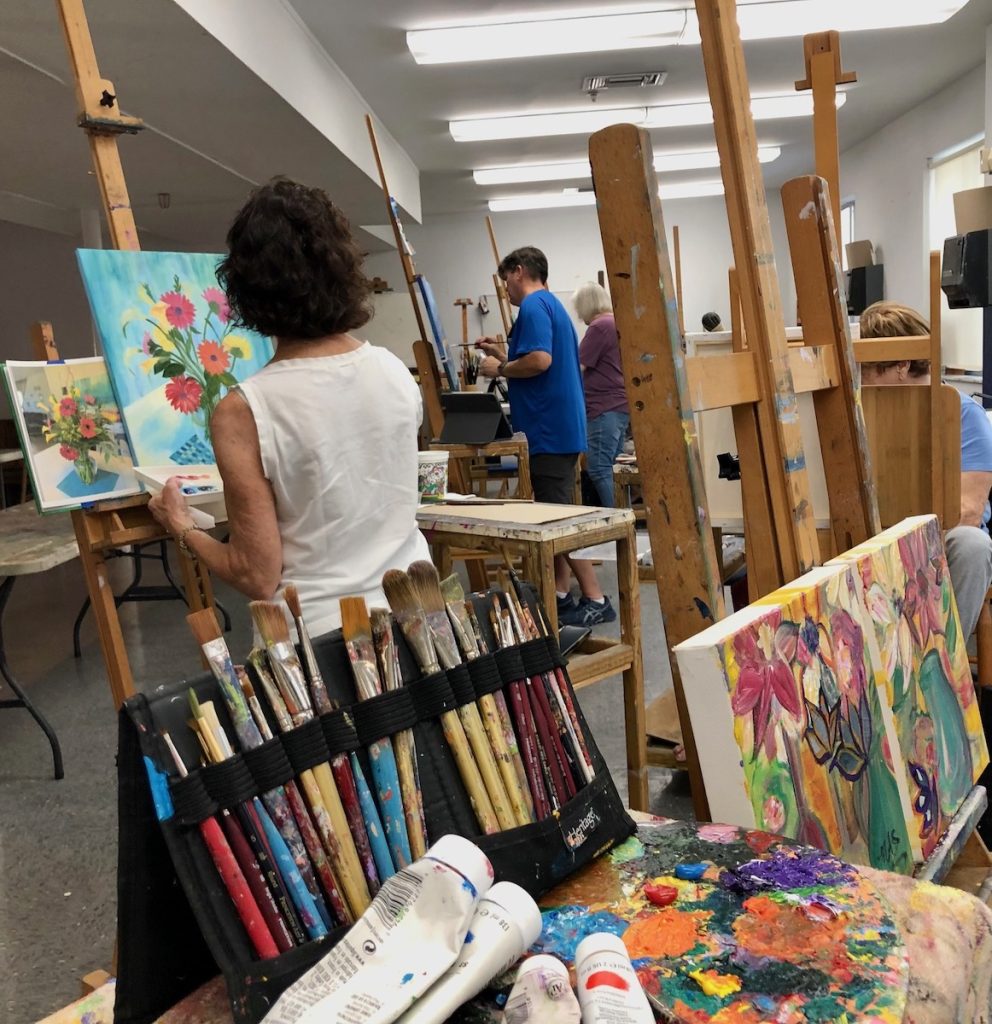 Below: the sun sets over the city of Albuquerque