A Leaf in the Wind: Poems by Jaro Majer, Artwork by Rose Marie Prins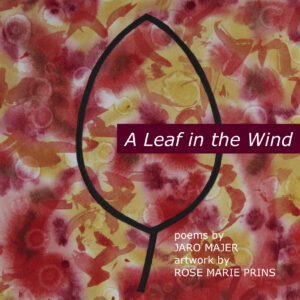 A Leaf in the Wind: Poems by Jaro Majer, Artwork by Rose Marie Prins is twelve inches square, has fifty-five pages and is available as a perfect bound paperback.
Description: A Leaf in the Wind combines the creative output of a mother and son. Rose Marie Prins started work on the images for A Leaf in the Wind during a residency at an artists' retreat in India shortly after her son, Jaro Majer, passed away. The paintings, silhouettes of Indian leaves in Sumi ink on a watercolor ground, are filled with color in an attempt to dispel her grief. Jaro Majer wrote the majority of the poems in A Leaf in the Wind during the period in the late '90s when he stayed at a spiritual retreat in the Catskill Mountains of New York. These poems express the heartfelt yearning of a young man's search for the Truth.
Their book has 22 full color illustrations in watercolor and Sumi ink. The 21 poems are devotional, yearning and often ecstatic. They address agape, yogic philosophy, love of both nature and the divine in its many manifestations in accessible language that people of many walks of life and differing spiritual paths can relate to. Both in the foreward and afterword Rose Marie Prins addresses how mental illness impacted her son later in life.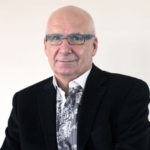 "A Leaf in the Wind is a mother's act of love. But it is not a sentimental gesture. This volume of poems stands on its own. And the title is instructive for it is about a spirit buffeted by mental illness. Jaro's written voice is tender but persistent. He never shouts but nor does he whisper. He retains a Zen-like objectivity, is never self-pitying and his meter is sonorous. One is caught up in the central theme, a journey to find that space in which his over-abundance of love, that paradoxically denies him peace, can be succored. We cheer him on hoping that the next poem will deliver the peace he both seeks and needs. Jaro's literary style is minimalist, a quiet elegance that never strives for linguistic effect. Finally, there is the authenticity, every word, every phrase drawn from his heart, from pain, from hope. As a result, it is an intensely moving read, better consumed a few poems at time.
In his poems one does not encounter a moment of bitterness, rather a confusion about the inaccessibility of the world he needed, an idealistic destination, and the harsher one he was required to inhabit. What kept him going down the road, is his own words, was 'looking for gold among the pebbles,' nuggets of optimism that he summoned so courageously at the darkest of times until he could no more." — Garth Clark, Contemporary Art Critic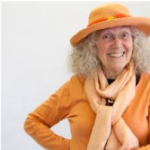 "A Leaf in the Wind is a highly moving intertwining of visual art and poetry that artist-mother Rose Marie Prins created after the untimely death of her poet-son Jaro Majer. We must ask, how does a mother grieve? How does she survive? Art alone receives her sorrow and gives shape to this tragic loss. The art that appeared in the wake of his death couple with the poet's eloquent search for peace and balance. His yearning and profound mind struggles no more. She journeyed outward to lands where mourning filled her artwork. His gifted poetry reveals a deep attachment to the spiritual life that gave fleeting solace against the mental health world's abandonment. Carefully crafted poetry speaks of a valiant search for answers to the profound questions that exceptional youth yearns to solve. The simple elegance of Rose Marie's art weighs a mighty accompaniment to this poetry. The blackest of leaves, the empty ones, and the blackened tracery sitting atop a vivid palette of color that might tell of past joys or offer future hope that grieving might end, or settle in as a constant livable hush. The son's equally elegant phrases, his pacing of sentences, final declarations, all shine with a brilliance now gone from the world, to be ever remembered in this elegant memorial to a well loved child." — Suzanne Benton, visual artist, world mask and performance artist and mother-survivor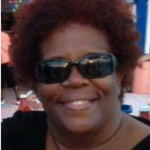 This book is a tribute to Prins' lost son; also a compassionate guide for processing grief."
— Linda Piper, PhD, writer, storyteller, theatre director