October 14, 2016
End of Creative Pinellas Grant Cycle
It's been a few months since I last posted here–my last post was brief, announcing that I was among ten artists: visual artists, a writer, a theater director and a dancer to have received a Creative Pinellas Individual Artist's Grant. All of my blog posts since then are on the Rapid Returns Grant website.
On Monday evening, October 3, several of the artists who had been awarded grants during the last Creative Pinellas Rapid Returns Grant cycle (May 15 to September 15) met at the Safety Harbor Museum and Cultural Center for the second Conversation With the Fellows.
Although it was a long drive in pouring rain, I'm really glad I went. In fact, in spite of the weather, the event was well attended and I, at least, found the conversation interesting. Elizabeth Brincklow of Creative Pinellas was the moderator and Fellows in attendance were Gregory Byrd, a writer; Carol Mickett and Robert Stackhouse, visual artists and collaborators; Babs Reingold and Ya Levy La'ford, the latter both visual artists. I was in stellar company!
The conversation started with Elizabeth Brincklow asking what we had accomplished with the $5,000 grant. Each artist's list was impressively long–from exhibitions; to travel (both nationally and internationally) to artists' retreats; to publications as well as practical items like reorganization of workspace and studios. One of the items on my list was that I started work on three mixed media paintings on canvas, 48″ x 24," which I recently completed. (See images below, including a detail of each panel.)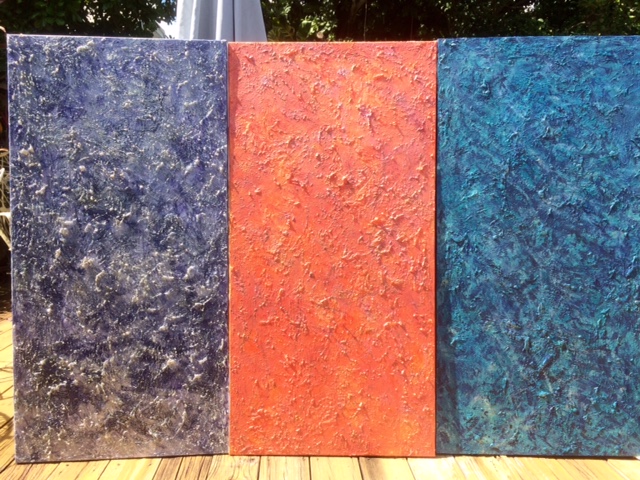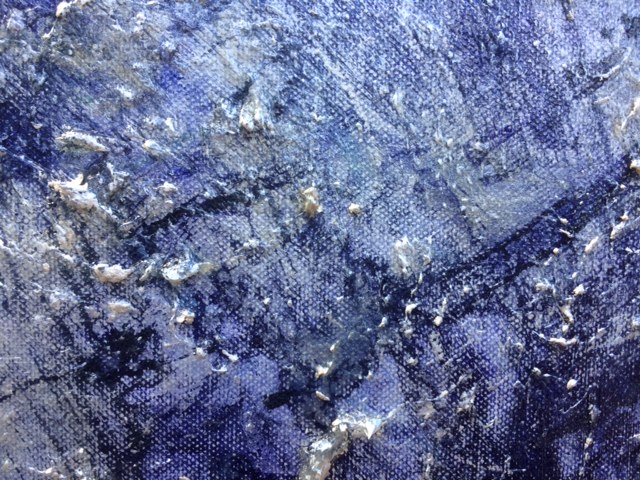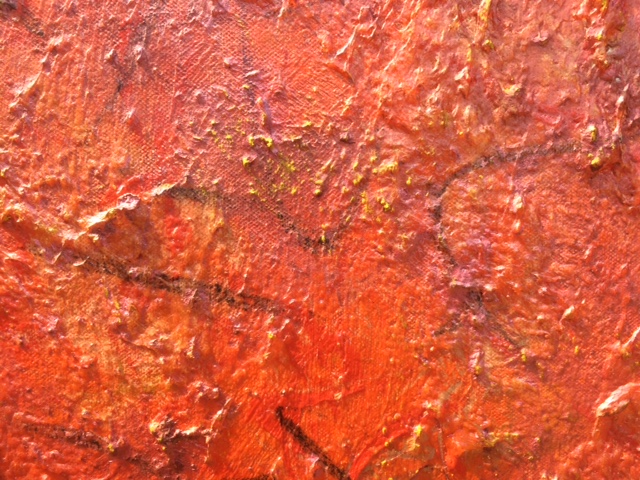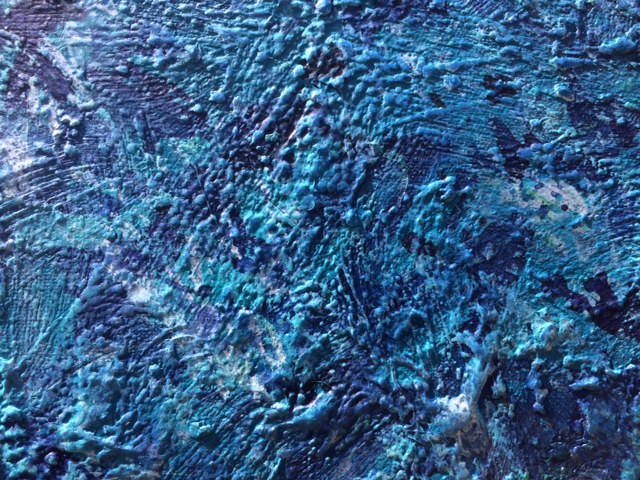 The one element that each of us mentioned was having the luxury of time, without economic pressure, to focus on the task at hand. We all commended Creative Pinellas on making this an open grant, without specific expectations.
My last grant from Pinellas County Cultural Affairs Department in 2007 was awarded to assist me in converting my garage into a studio. Naturally I was grateful, and having a studio on my property has been a great boon. However, when I received the Creative Pinellas grant I was elated because it will enable me to realize my dream of traveling to India to attend an artist' retreat, The Sanskriti Foundation near New Delhi, for two weeks in December and early January.
During the Conversation With the Fellows one of the questions posed to us was what inspires us in our work. It was fascinating to hear each artist reveal their sources of inspiration. They are so varied, yet we are all connected by our passion to make art.  We agreed that at times it is all consuming and, at times, those we love have to endure taking a back seat.
I talked about the installation that I plan to work on in India, tentatively entitled Sanctuary, East and West. The initial installation, exhibited in 2014, of which this is an expansion, was entitled Sanctuary and was inspired by my love of nature, specifically Florida's natural springs now becoming depleted and polluted. In India I will research Delhi's sacred Yamuna River which is India's most polluted river. I plan to make art at the Sanskriti Foundation and in New Delhi in collaboration with an organization called Salaam Baalak Trust that works with impoverished children. The solo exhibition featuring this work is scheduled to open at [email protected] the 2nd week of May 2017.
At some point during the Conversation With the Fellows each of us expressed our profound gratitude for having received the Individual Artist's Grant with the support of Creative Pinellas and the Pinellas County Board of County Commissioners. I feel honored to be included among this inspired and inspiring group.
Tags:artists' grants, grant