March 16, 2016
Installation Art
I create and exhibit sculptural installations while continuing to be active painting, collaging and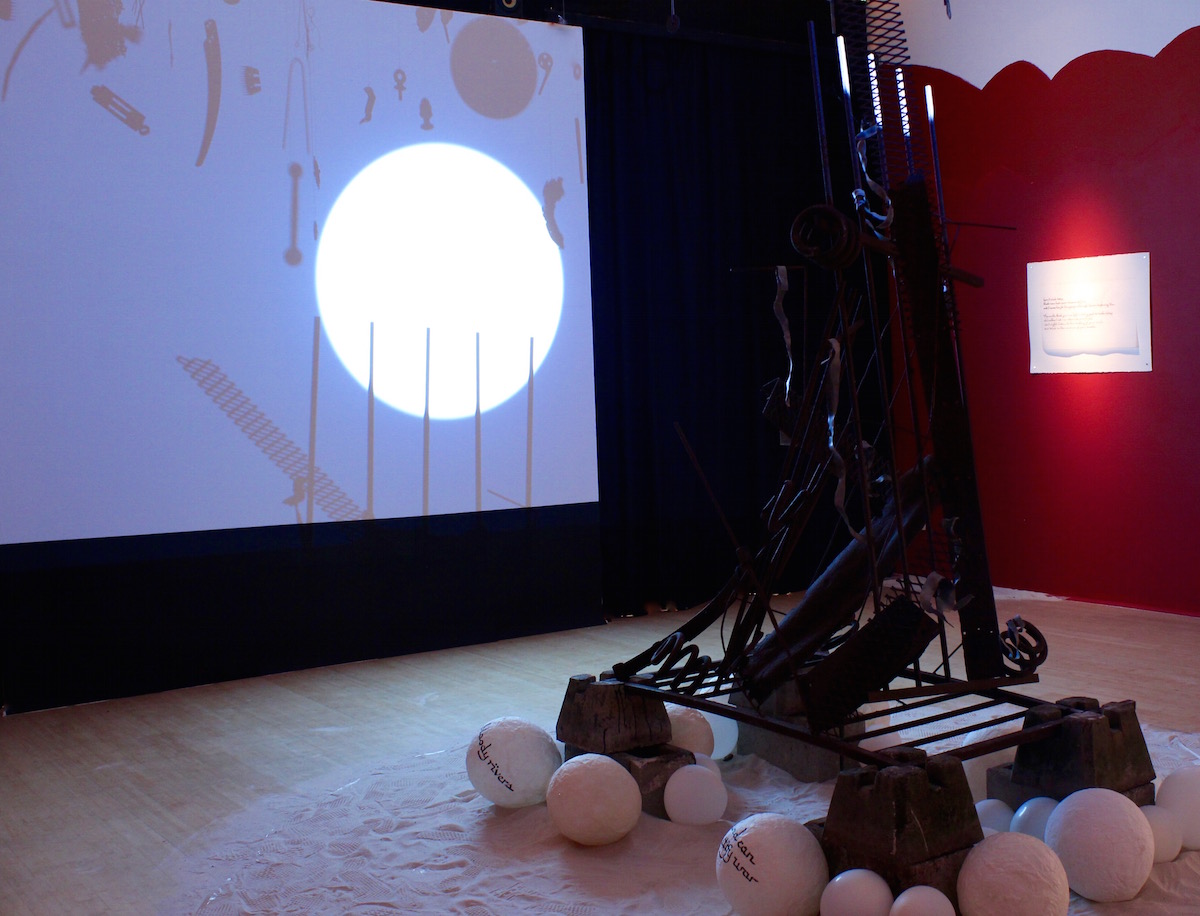 making artist books. Addressing both contemporary and historical phenomena that impact humanity, such as environmental degradation and war, my conceptually themed, multimedia installations often incorporate the processes and materials used in my two-dimensional work.
Two recent examples of sculptural installations are:
Homeland, Lost and Found which is a collaborative project indebted to two previous projects: Bound Crosses and Boundary Crossings, a series of paintings and works on paper, and a multimedia sculptural installation Suttee, Moths and the Bomb: a Trinity, created in the early 1980s.
Suttee was a Hindu rite in which women were burned alive on their husbands' funeral pyres; moths fly into flames because of an evolutionary failure to adapt. In this work I drew parallels among these widows, moths, and the threat posed by nuclear annihilation.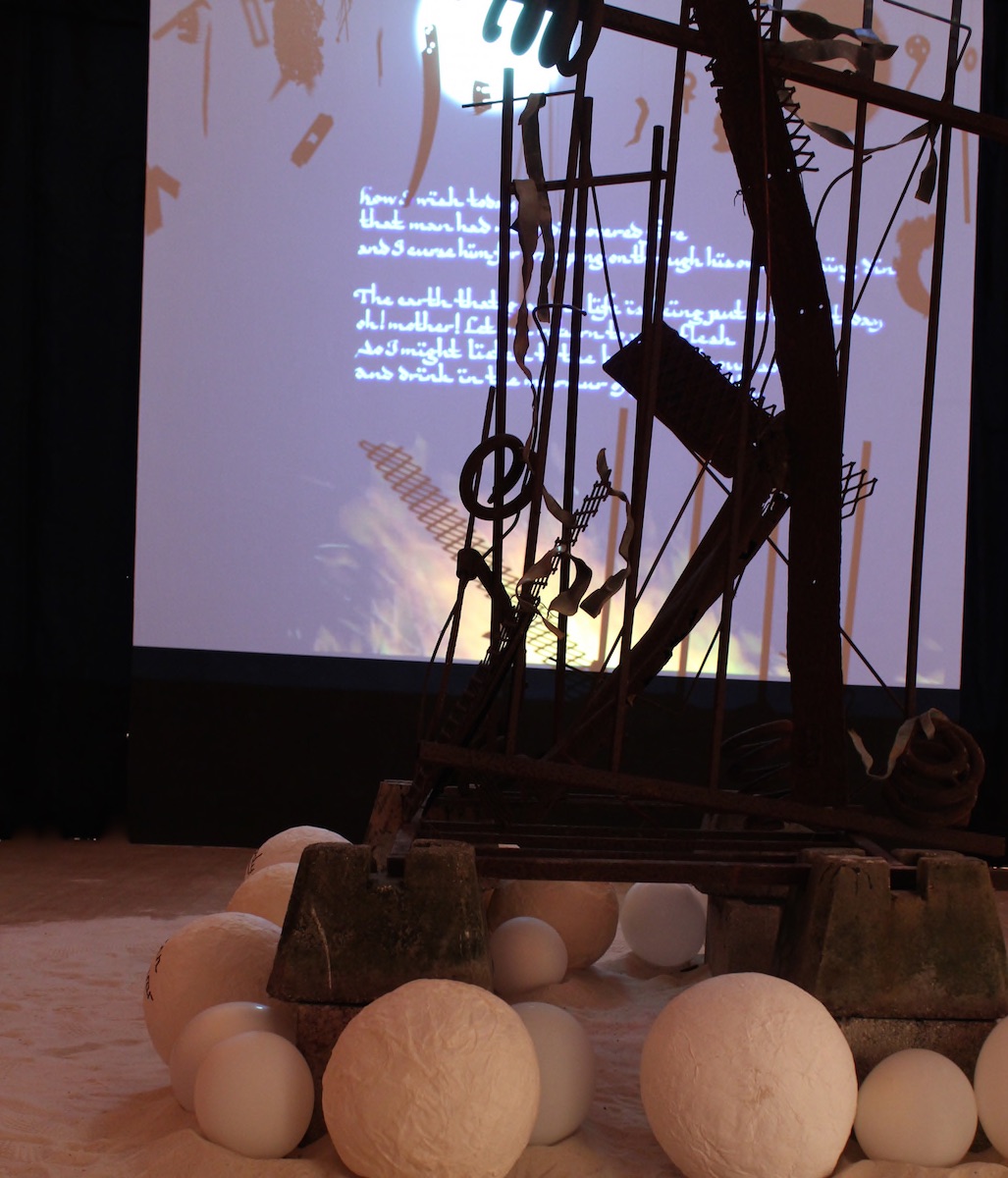 The series Bound Crosses and Boundary Crossings, was created in the 1990s and explored my South African roots. The crosses in these mixed media works are invariably wounded: a symbol for the wounded state of the apartheid-torn country that I left in 1972 and to which I never returned.
With the advent of the American invasion of Iraq, I was moved by Iraqi poet Salah Al Hamdani's poem Baghdad Mon Amour which mourns the loss of his homeland. In response I created the first version of Homeland, Lost and Found which consisted of a large, metal sculpture reminiscent of a burned out urban structure and Charlene McCarthy's elegantly calligraphed excerpts from Baghdad Mon Amour on paper panels attached to the gallery walls.
In 2014, as ever increasing tension gripped the Middle East and many fled their homelands, I returned to the themes of loss, sacrifice and war. This time, however, my primary concern was the metaphorical content of these themes; specifically Carl Jung's assertion that there is no coming to consciousness without pain as a fundamental aspect of spirituality. The "trials by fire," the internal battles, the sacrifices and losses are part of the process of self-realization.
For this iteration I painted the gallery walls with the red hills of a Middle Eastern desert with the help of several assistants, covered the floor with desert sand and added music with haunting Middle Eastern rhythms by composer and arranger Rick Neal of element-tao and a video by Jim Sennott evoking the drama of war to the original installation.
Sanctuary, also created in 2014, is an installation addressing the plight of Florida's many natural springs.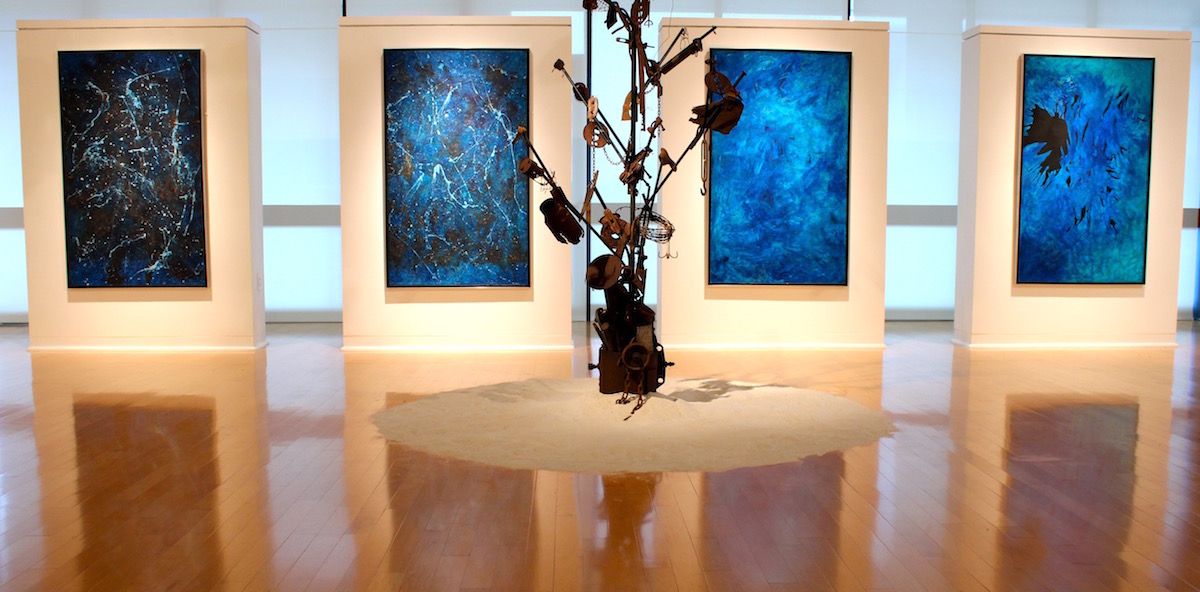 The precursors were Modern Interior, Sackcloth and Ashes and War and Peace and the Height in Between. The former was a sculptural installation in which rusted pipes, tangled wires and other industrial debris were arranged in a container. At first glance this arrangement appeared to be an elegant addition to a modern room. On closer inspection the viewer encountered a partially dismembered plaster sculpture of a nude woman jammed head first into the center of the arrangement in the container. This represented Mother Nature.
Sackcloth and Ashes depicted an abstraction of a phoenix rising above a pile of ashes. The walls of the installation were covered in sackcloth hung with abstract images created from ash and soot on paper. Here I was mourning the impending loss of our natural environment yet implying hope for the future.
My solo exhibition War and Peace and the Height in Between featured a series of large, mixed media paintings in various hues of blue created earlier in the decade and inspired by a poem A War Far and Near written for me by the American poet Timothy Houghton.
In the United States, visual artists, writers and composers have for generations found inspiration and solace in nature. Nature has been a life-long sanctuary and an inspiration to me as well.
My version of a contemporary sanctuary consists of: paintings representing Florida's springs in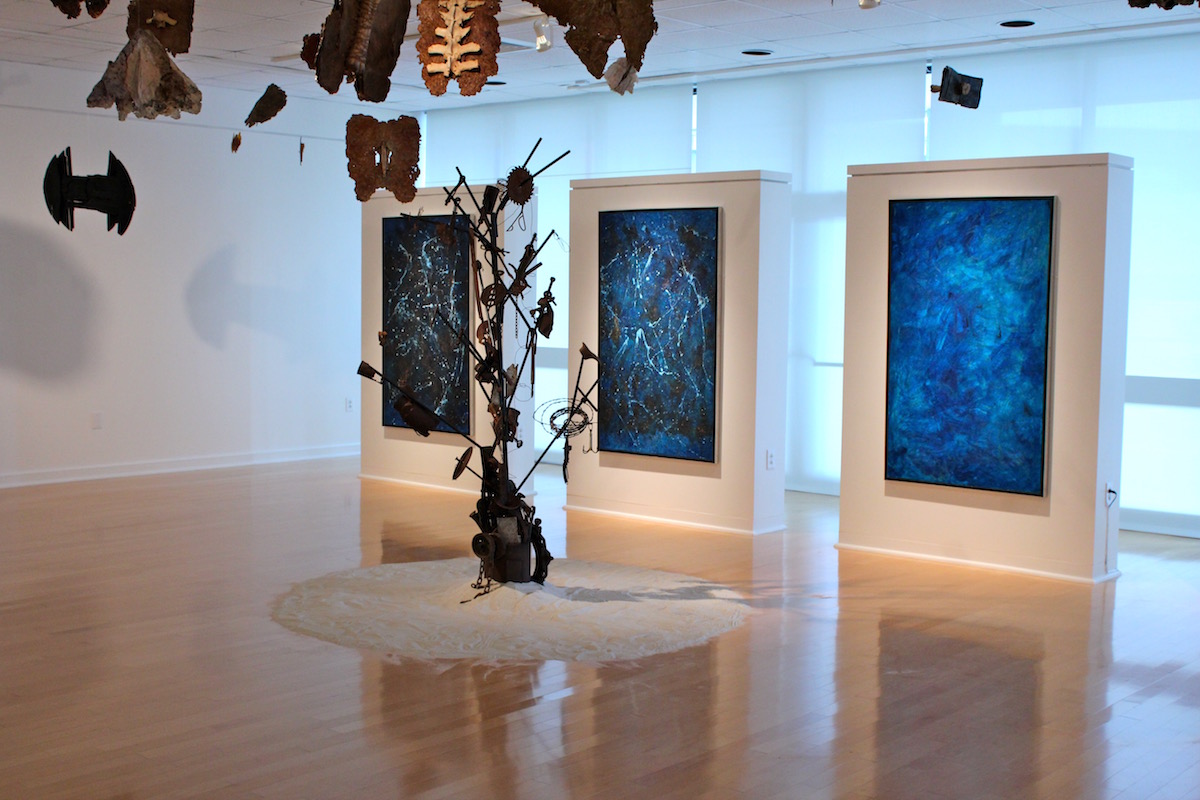 various states, from sparkling and pristine to sullied with pollution; a large abstract tree made from rusted found objects above which are suspended bird and insect-like mobiles made from bones and hand-made paper; the constant sound of trickling water and river sand on the floor. Each viewer left their footprints in the sand: we are all implicated in the demise of Mother Nature, including the problems facing our state's aquatic treasures.
Viewers were invited to share their thoughts and concerns about Florida's springs, our once pristine sanctuaries, now becoming overgrown with suffocating algae and sullied by pollutants. One couple shared, "We loved the whole experience and each individual piece. This space comes alive with the sounds, visuals and kinetic movement of the mobiles, and each mobile is so interesting to look at… Your message came through loud and clear and we went away inspired…" Other viewers' comments focused on the importance of the work as a means of bringing the crisis facing Florida's springs to their attention.
All of the installations described above are still relevant in today's world. The audience for them is very broad: both the art community and those interested in the intersection of creativity, world affairs and human psychology, with subject matter that is in the news headlines every day. The themes of my installations are consistent with many of the works featured in the 2015 Venice Biennale, All the World's Futures, described as "devoted to a fresh appraisal of the relationship of art and artists to the current state of things."