February 17, 2016
Update — Spring Mixed Media Creativity Retreat, May 13 to 15
A powerful weekend of art! Evoke, experience and express your own unique creativity with Rose Marie Prins, mixed media artist and Linn Sennott, Core Health Facilitator and yoga teacher. Open yourself to inspiration from nature in our beautiful retreat setting at the Rainbow Rivers Center, Dunnellon, Florida, located at the confluence of the Rainbow and the Withlacooche Rivers. Draw, paint, collage, explore new art media and journal. Share the creative process in the company of stimulating instructors and like-minded creative spirits and make mixed media works of art to take home. Art beginners are welcome!
As a life-long student of creativity (having studied the creative process in-depth in science and mathematics, including publishing thirty mathematical research papers), Linn has, in recent years, expanded her creative scope to include poetry, art, literature and yoga. She created the popular Core Creativity Series to assist participants to invoke, experience and express their inborn natural creativity. In our Spring Mixed Media Creativity Retreat, Linn will guide us in powerful creative expansions that will enrich our art-making experience and take it to a deeper level. She will also guide our morning yoga sessions.
Linn's work in creativity dovetails with my own goal in teaching art: to help each student connect with and express their own unique style by challenging their horizons, and going beyond the familiar to expand their art practice. Good examples of this approach can be seen at the current exhibition of instructors' and students' art at the Morean Art Center, where I and several of my students are exhibiting their work through February 19th.
Besides making mixed media art and doing yoga, activities will include a visit to the Tampa Museum of Art en route to the Rainbow Rivers Center, demonstrations and critiques, a nature walk, swimming in the pool, and a wine and cheese get-together on Saturday evening.
There are only a few spaces left so if you are interested in joining us, please contact me right away. The cabins accommodate up to four people (there is a $60 charge for a private bedroom).
Registration includes: Friday evening cookout, Sunday lunch, two nights (double room occupancy) in a lovely cabin with heat & AC, screened porch & fully-equipped kitchen to prepare your other meals. Morning yoga and four sessions of creative expansion, a nature-art walk, creation of your mixed media work with personalized attention from Rose Marie. Bring your own art supplies (list will be sent after receipt of deposit). Registration: $275 (Tampa Museum of Art admission extra)
Deposit: $125 holds your space. Single Room Guarantee Supplement + $60
Arrival: *Friday by 5 p.m.
Departure: Sunday by 3:30 p.m.
*To inspire creativity, on Friday afternoon en route to the Rainbow Rivers Center, join Rose Marie at The Tampa Museum of Art to view Jaume Plensa: Human Landscape and a new show of masterworks.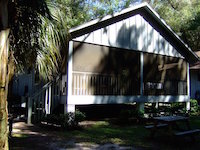 Testimonials for Rose Marie: I have seen students blossom before my eyes. She has a perfect eye and can suggest one thing that transforms a painting into greatness. (and) Rose Marie is a continuing influence for my artistic endeavors through her support and example.
Testimonials for Linn: Rated 10+ Linn is excited about creativity and her passion is palpable and inviting. (and) Rated 10 as a leader. Linn is warm, insightful, friendly, well- educated and able to share her vast knowledge effectively. She puts her heart and soul into each session…
To learn more about Linn visit: www.linnsennott.corehealth.us
Questions? Ready to register? Contact Rose Marie or Linn: