August 8, 2019
Summer Splendors: The Art of Rose Marie Prins and her Morean Arts Center Students
Some of my current and recent Morean Arts Center students and I had an exhibition at the Gilbert Chapel Gallery in downtown St. Petersburg, from July 13 to 28. The St. Pete First Art Collective, spearheaded by my former painting student Gina White, were the curators. They did a great job combining works in many styles and media into a cohesive exhibition. The gallery walls were filled with inviting images of summer. Outdoors we sweltered during July but in the gallery, with its filtered light streaming through stained glass windows, it was blessedly cool.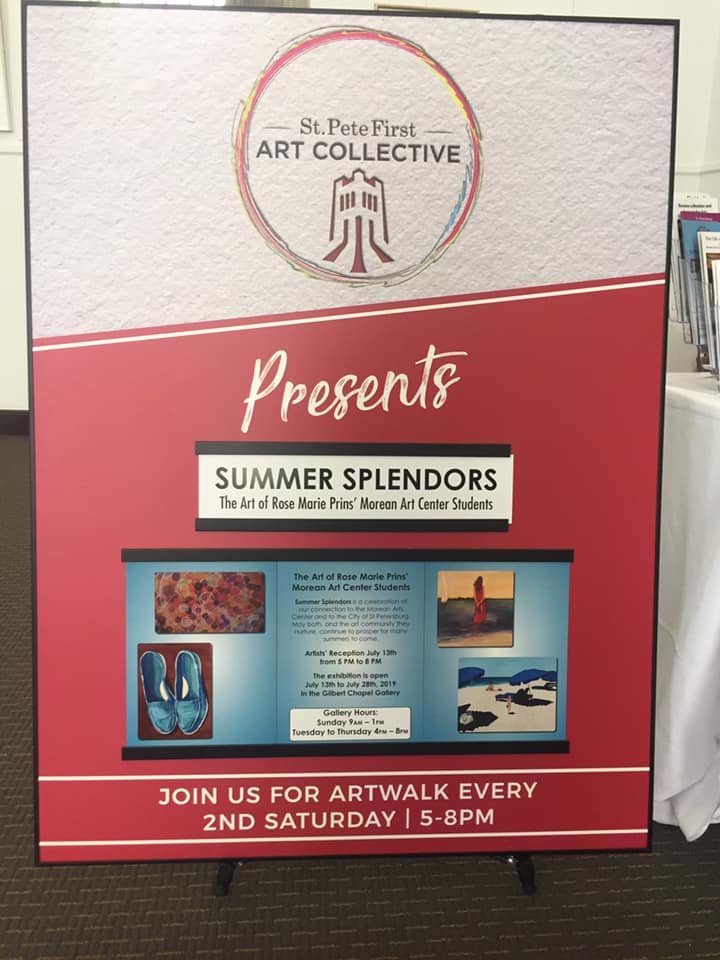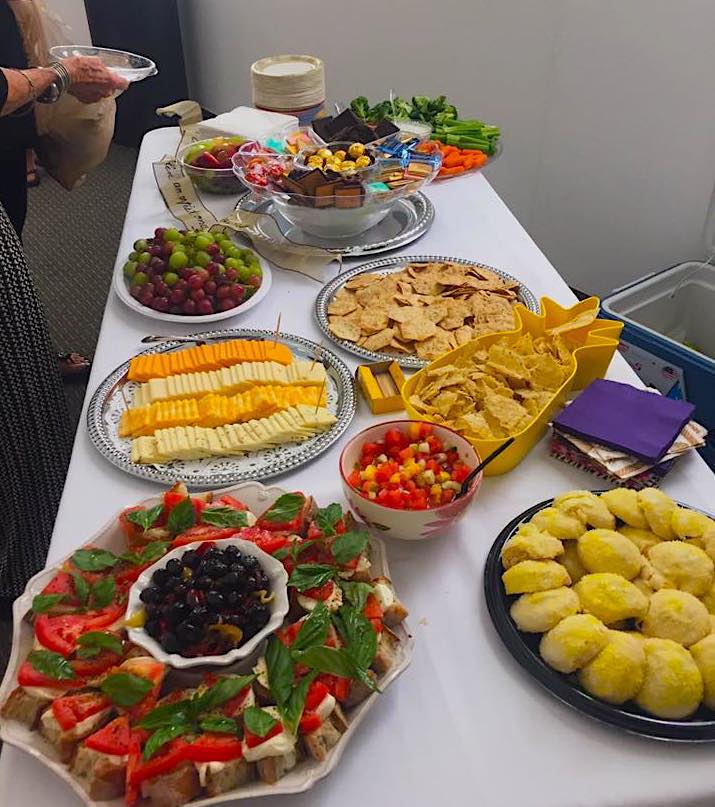 The well attended reception, as part of St. Pete's Second Saturday Art Walk, was a lot of fun and the refreshments, supplied by my students, were delicious.
Below is an excerpt from our press release: 
Originally from Southern Africa, mixed media artist, Rose Marie Prins, Ph.D., has taught at the Morean Arts Center in St Petersburg for almost two decades. Some of her students, originally from as far afield as Australia and Europe, have regularly attended Rose Marie's Beginning/Intermediate Painting Course for as long as she has taught there. Painting in oils, acrylics, watercolors and mixed media, they have created splendid works of art that have garnered many awards and grace the walls of homes throughout the United States and Europe.


Although it has gone through numerous changes, the Morean Arts Center, as it is known today, has been in existence for over one hundred years. As the City of St Petersburg, established in 1875, changes and grows, the Morean continues, with its classes, galleries and events, to be a resource and a destination for artists and art lovers from throughout the world. Summer Splendors is a celebration of our connection to the Morean Arts Center and to the City of St Petersburg. May both, and the art community they nurture, continue to prosper for many summers to come. 
No exaggeration here!
Participating artists: Patsi Aguero, Colette Bancroft, Alexandra Bauman, Katie Deits, Ron Everest, Martie Fagan, Kimberly Tracy Franklin, Shay Grusd, Christina Lavery, Debra Maller, Tricia Tierney Moses, Dee Perconti, Rose Marie Prins, Lori Raynovich, Karen Riffe, Linda Roberts, Sue Ryan, Kara Salomon, Maureen Shankey and Natalie Velez.

Other Exhibitions: Also on view during July was Exquisite Corpse Games, 2017 & 2018 at the Chihuly Collection in St Petersburg. The piece I made together with Rebecca Skelton and Amandine Drouet was on proud display.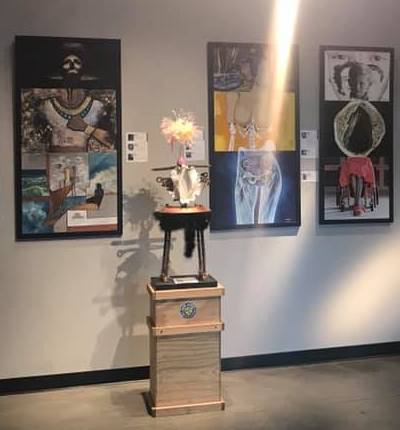 This is Me: The Morean Arts Center's Members' Show opened on July 13. I was delighted to see Tricia Tierney Moses, one of my Beginning/Intermediate Painting Course students, receive the Second Place award for her painting. The exhibition, that includes works by a few of my students as well as a new piece by me, is up until September 19.